Cabby, labeled The Collector, is a female contestant in Inanimate Insanity Invitational and is in The Pinkers. She is voiced by Casey Landman.
Appearance
Cabby is a periwinkle file cabinet. Her body is a large vertical rectangle with two drawers on her front. Her face appears on the upper drawer and her arms at her side. Cabby's drawers can open, containing files that she can remove. Rather than having legs, Cabby has four small wheels at the bottom of her body, which she uses to roll.
Personality
Upon her first introduction, Cabby has shown an impressively high attention to detail. Cabby is quite resourceful and seems to rely on her files primarily for references, as seen in her first appearance in "Stranded in Paradise", where she aptly predicted MePhone4's team randomization moments before it happened. She is astute in logging information in her files, as she is seen writing information within a file, presumably for later reference. Cabby also seems to be generally intelligent and witful, potentially similar to the likes of Test Tube.
Cabby is also very protective of her files, as seen in "The Shame of the Name", as she scolds Fan for stealing a file of hers, but claims she will happily give out information if asked. She's also seen in the episode to be somewhat manipulative and persuasive as she gets Bow, Goo and Clover to vote Fan out with her.
Official Site Bio
"

Cabby is a massive database on wheels! She's a fastidious author of countless files, which seem to contain information about everyone and everything. If it's at all interesting, or even just a plain and simple fact, Cabby wants to know it. She's happy to share her knowledge, as long as you ask her for permission. Or, better yet, if you can tell her something she doesn't already know! But trust us, that's easier said than done!

"
—Inanimate Insanity Site, 2021
Vote Status
Episode
EP #
Votes
Total Votes
Percentage
"The Shame of the Name"
2
2500
15170
16.47%
Total Number of Season 3 Votes:
2500
Trivia
Cabby's asset is uniquely in orthographic view, since the back of her side is as tall as her front side.
Cabby is the first (and so far, only) contestant with arms but no legs, if Bow and Dough's ghost form is not included.

She is additionally the only contestant so far who has wheels in replacement of legs.

Cabby is the second contestant to end with a "-y" suffix when their object's name doesn't have one, the first being Cheesy.

Coincidentally, both their names start with a "C' and Cabby's voice actor as well.
See also:
Gallery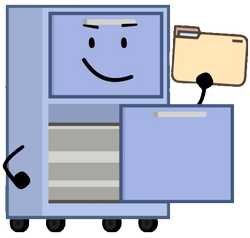 Click here to view the gallery.
Inanimate Insanity Characters