Enanimat Ensanetay



Country

United States of America

Genre

Comedy
Animation
Parody

Started

April 1st, 2012

Ended

April 1st, 2013

Created by

Prequel [unofficially]
  Enanimat Ensanetay was a parody spin-off series of Inanimate Insanity. The series premiered on April 1st, 2012 with Teh Awsum Sammich, in order to fool the viewers who were awaiting the 12th episode, Crappy Anniversary, which came out later that day. It was created by Taylor Grodin, the co-animator of Inanimate Insanity. The series has so far had 3 "episodes".
Basis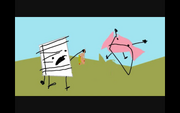 An entire joke within itself, Enanimat Ensanetay is an April Fools series that was created simply to troll, or jokingly fool, the viewers. The series crudely depicts the characters of Inanimate Insanity in a low quality environment. The scenery is poorly drawn, and the characters all have distorted voices, whether being strangely low pitched, or incomprehensible, all voiced by Taylor. Occasionally, random words or pictures will flash along the screen. Although the timeline of Enanimat Esanetay remains separate from that of Inanimate Insanity, the Inanimate Insanity timeline does seem to affect the timeline of Enanimat Ensanetay, as characters eliminated in Inanimate Insanity appeared on Enanimat Ensanetay's Idiotic Island, as well as showcasing OJ winning the million.
According to Taylor, the first Enanimat Ensanetay took him merely 10 minutes entirely to create it. All of the original Inanimate Insanity contestants except Balloon, Pickle, and Taco have appeared one the farce. (MePhone4 being the only character to make an appearance in all three episodes). Interestingly, the spelling is on the original title card is different from the spelling of the actual videos.
"Episodes"
| Icon | # | Episode Title | Date | Time |
| --- | --- | --- | --- | --- |
| | S1 E12 | | 04/01/2012 | 1:01 |
| | S1 E17.3 | | 10/07/2012 | 0:55 |
| | S5 E1 | Tis Cabbage... and sum Pasta | 04/01/2013 | 2:19 |
Notice that S stands for Season and E stands for Episode.
While they may not seem like episodes, the videos of Enanimat Ensanetay are labeled as regular episodes. As most series start on the first episode, Enanimat Ensanetay starts on its 12th episode (labeled "twelf"), as it mocked the 12th episode of Inanimate Insanity before its release. Ranging from less than a minute long to slightly under 2:20, the so far three episodes have been released once on the same date as Inanimate Insanity Crappy Anniversary, once randomly between Episode 16 and 17, and the day before the first episode of season 2.
"Elimination Table"
Place
Contestants
S1E12
S1E17.3
S5E1
TBA
Paper
SAFE
R. S5E1
SAFE
TBA
Baseball
D. E17.3
SAFE
SAFE
TBA
Nickel
D. E17.3
SAFE
SAFE
TBA
Lightbulb
D. E17.3
SAFE
SAFE
TBA
Paintbrush
D. E17.3
SAFE
SAFE
TBA
Salt
D. E17.3
SAFE
SAFE
TBA
Pepper
D. E17.3
SAFE
SAFE
TBA
OJ
Debuts in S5E1
SAFE
TBA
Marshmallow
Debuts in S5E1
SAFE
TBA
Apple
Debuts in S5E1
SAFE
TBA
Knife
Debuts in S5E1
SAFE
TBA
Yin-Yang
Debuts in S5E1
SAFE
13th/14th
Cabbage
Debuts in S5E1
OUT
13th/14th
Pasta
Debuts in S5E1
OUT
15th
Bomb
OUT
R. in S5E1
OUT
16th
Bow
SAFE
DIED
P. E.
Trivia
Words are spelled incorrectly in the title of each episode.
Yin-Yang is the only Season 2 newbie to appear in Enanimat Ensanetay.
All the episodes are used to "troll" users waiting for the upcoming episodes.
The software used to make the episodes are Microsoft Paint and Windows Movie Maker 6.0.