Soap, labeled The Neat Freak, is a female contestant in Inanimate Insanity II. She was placed on The Grand Slams. She is voiced by Kacie Chapman.
Personality
As a conscientious yet relentless player, Soap excels in maintaining order. At the start of the series, Soap is often seen fretting over germs, and can usually be seen cleaning things with the small blue cloth she carries around with her to scrub and wipe things, even if they are already somewhat clean. Her fear of germs proved to be a distraction from the competition.
Despite Soap's need to constantly clean, she is a kind and formidable competitor at heart with a penchant for leading. In "Cooking for the Grater Good", after noting her cooking etiquette, Soap nominates herself as acting captain for her team in the pizza making challenge, with the approval of Baseball. Soap's confidence, outspoken nature, willingness to listen to her team, and enthusiasm for challenges makes her a natural leader. In "Everything's A-OJ", Soap once again takes upon the role as leader to inspire and lead her team efficiently through song.
However, Soap's newfound power over her team causes her to become ruthless in challenges due to her competitive nature and often act out of line. This is first seen when she uses Cheesy to make her team's pizza in "Cooking for the Grater Good", but also when she threw Toilet out of her team's hot air balloon at the opposing team in "Theft and Battery".
Soap shows a desire to become the best version of herself. She recognizes her compulsion to clean as a defense mechanism and takes steps to get over it, as seen in "Rain On Your Charade" as she tries to throw her cleaning supplies off a cliff. Soap also shows an intuition for helping those around her improve themselves, giving Microphone and Suitcase sound advice during her elimination. Her understanding of what their struggles were could bely an observant nature with attention to detail.
Appearance
Soap is a white round soap bottle with a face inside a square pink label with pink horizontal stripes above and below. On her head is a pink cap with a pink pump. Her arms are on the sides and her legs are at the bottom of the bottle.
Official Site Bio
"

Soap is a huge germophobe and 'neat-freak.' If something isn't perfectly clean, she will scrub for hours until she knows bacteria aren't anywhere near her. She's very sweet and down-to-earth but this mental instability definitely negatively impacts her life.

"
—Inanimate Insanity Site, 2013
"

When it comes to keeping things clean, no one does a better job than Soap. She is an efficient and organized leader at heart, yet in her desire to keep everything sanitary she often creates another mess entirely. Soap wants to ensure everything is in its proper place but has recently shown a willingness to be less particular. She is not afraid to be upfront and call others out on their mistakes. Above all, Soap is determined to not only give her friends advice, but to work on herself as well.

"
—Inanimate Insanity Site, 2018
Coverage
Click here to view the coverage of Soap.
Voice Actors
Kacie Chapman (US/UK/AU/CAN)
Vibha Melkote (Singing) (US/UK/AU/CAN)
Vote Status
Trivia
As revealed on Inanimate Insanity's Facebook page, Soap was originally going to be a bar of soap.
Soap is the first contestant to sing on screen in the series.

Soap has an additional voice actress, Vibha Melkote, as her singing voice.

Soap has received the highest number of elimination votes in Inanimate Insanity history, with 2,663 votes. This beat Cheesy's previous record of 2,605.

Soap is the last contestant to be voted out as a result of viewer elimination. As a result, her record amount of votes remains the highest.

According to the Inanimate Insanity site, Soap's hobbies include including scrapbooking and gaming.

Although Microphone threw most of her cleaning supplies off a cliff, Soap keeps a secret stash of backups at the hotel. These are locked up in a room that only OJ has the key to, and are to be used for "emergencies only."

According to Best of Soap, Adam Katz was originally going to voice Soap, but the filter he used to heighten the pitch of his voice made for an unpleasant, robotic sound. Kacie Chapman took the role instead.
She is the only Grand Slam to get fewer votes in "Theft and Battery" than "A Kick in the Right Direction", with a 430 vote difference.
Soap, Balloon, Microphone and Test Tube are the only contestants to voluntarily walk into the Rejection Portal at their respective eliminations.
Gallery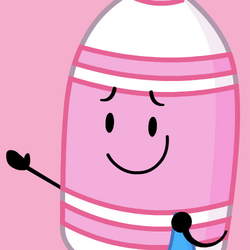 Click here to view the gallery.
Inanimate Insanity Characters