The Sinkers

The Sinkers

Number of Members:

6

Eliminated:

Team Captain:

N/A

Highest Ranking member:

TBD

Lowest Ranking member:
 The Sinkers (formerly Blue Team) is one of the three opposing teams in Inanimate Insanity Invitational, facing against The Pinkers and The Thinkers. It was formed in "Stranded in Paradise". They have won one challenge, and four of the contestants are still competing. In "The Shame of the Name", the name was changed from Blue Team to The Sinkers.
The Sinkers consists of Balloon, Blueberry, Box, Lifering, Nickel, and Tea Kettle.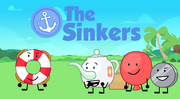 Current Members
Former Members
Challenge Activity
| Episode | Win/Lose | Strategy |
| --- | --- | --- |
| Stranded in Paradise | Lose | In an attempt to teach diving forms to his team, Lifering got stuck in the quicksand and was physically unable to sink. This led to the rest of the team to go weigh him down. Blueberry didn't bother moving at all, having caused his team's defeat as there was apparently not enough weight to sink Lifering. |
| The Shame of the Name | Win (2nd) | Lifering came up with the name "The Sinkers", as an effort to make up for his performance in the previous episode. |
| Snapshot Showdown | Lose | Lifering initially hid his team from the rest of the contestants so they wouldn't be pictured; but later on the team planned to disguise as a "raft monster", initially scaring off Bow, but once Nickel went away to sneak behind Clover and try to get an embarrassing picture out of her, the plan didn't work, as the "eight legs" were now six thanks to Nickel being gone. This led Bow to take and submit a picture of Tea Kettle from the front view and caused their loss; even after Nickel took a picture of Silver Spoon slipping on a banana peel. |
Trivia
Half of the team members:

Have/don't have names starting with "B".
Are/are not newbies.

Half of the remaining contestants are armless.
Tea Kettle is the only female on this team.
The Sinkers are currently the team with the most loss in this season.